Father's Day is just around the corner!  We're gearing up to celebrate dad, and while, of course, he deserves a day of honor, why do we celebrate Father's Day? This year is the 110th anniversary of Father's Day, however it did not become an official holiday until 1972! Read along to learn more about the start of the holiday...and don't forget to grab some Scamps Toffee sweets from our Father's Day collection while you read! ; ) 
Humble Beginnings
     Sonora Smart Dodd sat in church, listening to a Mother's Day sermon, when an idea hit her: We should have a holiday to celebrate fathers as well. Dodd's mother died during childbirth, so her father decided to take on the role of primary caretaker for her and her 5 siblings. At this time, single fathers who truly dedicated their lives to their children were rare; taking care of the children was viewed as the mother's job. Dodd firmly believed that fathers deserved a day to honor them as well.
In 1910, Dodd approached the mayor of her town, Spokane, WA, asking him to officially recognize the holiday. The mayor supported the idea and the first official Father's Day was celebrated on June 19th, 1910.  Dodd and a few other young women in the town handed  out roses to the fathers during their church services. After church, Dodd and her son visited homebound fathers, gifting them with roses as well. Every dad deserved to celebrate this day!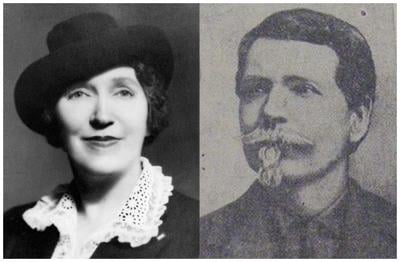 Dodd and her father, William Smart
Becoming an Official Holiday
            Nearly 58 years after the first Father's Day was celebrated, the holiday finally became official when President Richard Nixon signed a law to make it a permanent holiday. In contrast, Mother's Day was first celebrated in 1908 and was made an official holiday in 1914, so why did it take Father's Day so long to become an official holiday? Initially, pushback came from the stereotypes present at the time: men are supposed to work and women are supposed to be homemakers. Why would we want to celebrate fathers like mothers? Isn't that a bit too feminine?  Many people also found the holiday to be too commercialized.
            Slowly more presidents began celebrating the holiday, such as President Coolidge and President Lyndon B. Johnson, in an attempt to improve their image and impress family values upon the country. As typical gender stereotypes lessened and the holiday gained presidential support, the country viewed it less as a commercialized, silly, feminine holiday, and just a way to embrace family!
Nixon celebrating Father's Day with his daughters
Father's Day Around the World 
     America is the only country who officially celebrates Father's Day on the third Sunday of June, however, other countries do have holidays. The Taiwanese observe the holiday on August 8th, as it is the 8th day of the 8th month which sounds like "Papa" in Mandarin Chinese. In Spain, Portugal, and other traditionally Catholic countries, Father's Day is celebrated on the Feast of St. Joseph, March 19th.
Father's Day Today
     Today, we view Father's Day as a way to recognize dad for all he does. It's a chance to relax, spend time with the family and enjoy the day (and maybe even enjoy some toffee). The holiday started as a way to honor fathers, and that's how we celebrate now!
We hope you have an amazing Father's Day!